We challenge you to cut 50 lawns FREE for the elderly, disabled, single parents, veterans , & anyone in need of help in your town.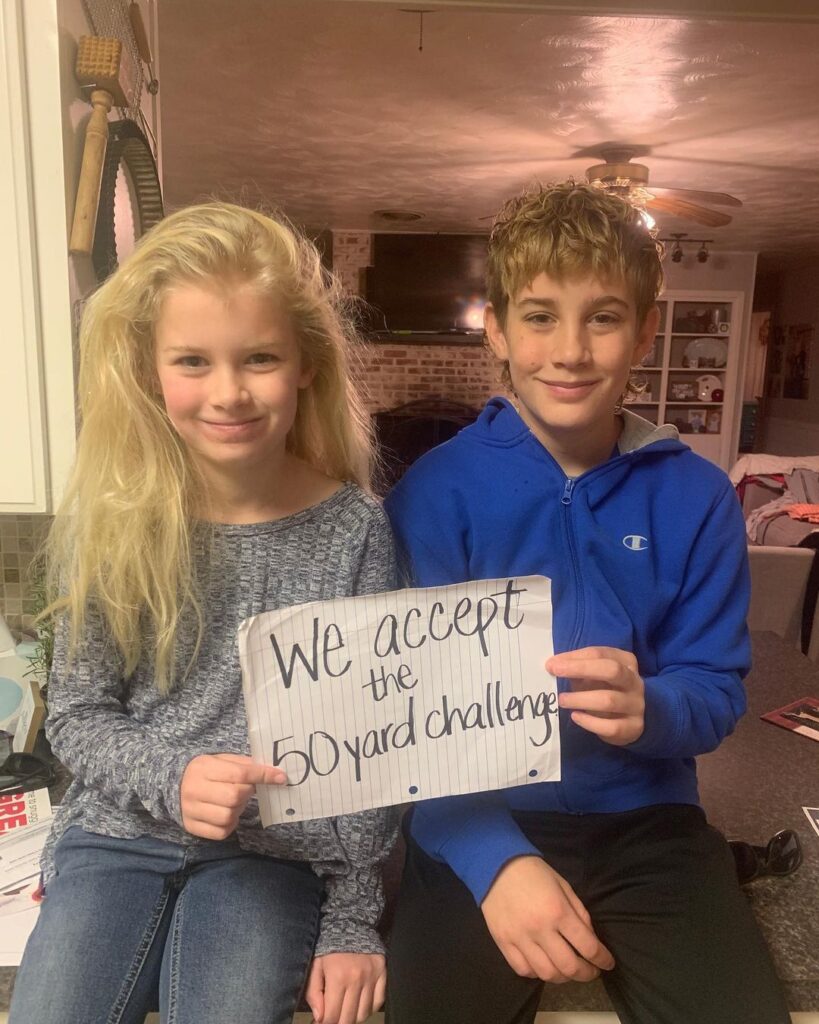 The challenge is for boys & girls. Ages 8-17.
If you accept this challenge, all you need to do is send us a photo of you holding a sign saying "I accept the 50 Yard Challenge", and in return, we'll send you your white Raising Men/Women  shirt along with shades & ear protection to get you started. For every 10 lawns cut, you will get a new color shirt.
• Once you cut 10 lawns you get an orange shirt
• 20 lawns earn a green shirt
• 30 lawns earn a blue shirt
• 40 lawns earn a red shirt
• 50 lawns earn a black shirt.
Once you reach 50 lawns, we will come visit you, & present you your black shirt. We will also give you a brand new lawn mower, weed eater & blower ! Let's make a difference together by mowing one yard at a time! 
**Note** Families  who sign up with 3 or more kids, will be required to do 100 lawns. 
Send us a picture of you holding a sign saying "I accept the 50 Yard Challenge". If there are more than two kids we just need one submission and a signing saying "We accept the 50 yard challenge".
You will then be sent your white shirt, shades and ear protection
Every time you mow 10 lawns, you will receive a new shirt, highlighting your experience and commitment to helping others.
Families who sign up with 3 or more kids will be required to do 100 lawns or 50 lawns each. 100 lawns per 3 kids.
We've got kids in all 50 states!
In over 8 countries, we have thousands of kids signing up to make a difference in their community by completing our 50 yard challenge. From our humble beginnings in Huntsville, Alabama, our organization has experienced tremendous growth in just 5 short years. Our steadfast goal has always remained the same:
Making a difference, one lawn at a time.
"How To Submit Your Kids Lawns"
PLEASE READ THE FAQ BELOW!
Fill out the form to join
If you are having any problems with signing up or uploading your Childs photo, please text (256) 508-9440.
Kids Can Not Start Till They Receive Their Shirt, Safety Glasses & Ear Plugs In The Mail. If you do not receive it in the mail within 1 week of signing up, please let us know right away so we can have another set sent out.
**Reminder: If you sign up 3 or more kids to do the 50 yard challenge together, they will be required to mow 100 lawns or 50 lawns each.**
Answers to our most frequently asked questions can be found below
Grab some swag, support our cause
All proceeds from our shirts & hats are going to towards a scholarship fund we are building for kids who complete our 50 yard challenge.
Want more? Shop All Our Products!